March Is Colorectal Cancer Awareness Month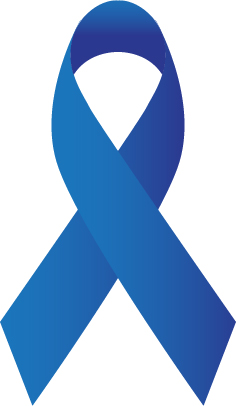 Colorectal Cancer, the third most common cancer among both men and women in the United States, maybe prevented by regular screenings.1 Regular screening is the most effective way of detecting colorectal cancer and when found early, it is highly treatable. Ninety percent of all individuals diagnosed with colorectal cancer at an early stage are still alive 5 years later.2
Colorectal cancer begins as a growth, known as a polyp. Polyps may take 10 to 15 years to become cancer. If the polyp is detected during the screening process, the entire polyp is removed, stopping it from becoming cancerous. Studies show that more than 1 in 3 adults age 50 and older are not getting tested as recommended. 3
Risk factors for developing colorectal cancer include the following:
Age-Colorectal cancer is more common in people over the age of 50

Personal and Family History- People who have a parent, sibling, or child with colorectal cancer are at a higher risk of developing it themselves

Race-African American men and women are at higher risk

Inflammatory bowel disease- People with IBD (which includes ulcerative colitis and Crohn's disease) are at a higher risk

Lifestyle-Being overweight, having a sedentary lifestyle, a diet high in red meat and processed meat, smoking, and heavy alcohol use can increase colorectal cancer risk
A colonoscopy is considered the best screening method available. Other screening methods also exist. The American Cancer Society recommends:
Colonoscopy every 10 years

Flexible sigmoidoscopy every 5 years

CT colonography (virtual colonoscopy) every 5 years

Fecal occult blood test (FOBT) every year

Fecal immunochemical test (FIT) every year

Stool DNA test (Cologuard) every 3 years

Double-contrast barium enema every 5 years
At FHCP, this preventive screening is a covered benefit and most times can be conveniently scheduled in your Primary Care Physician's office. Please call your PCP today to schedule your screening.