January Is One Health Awareness Month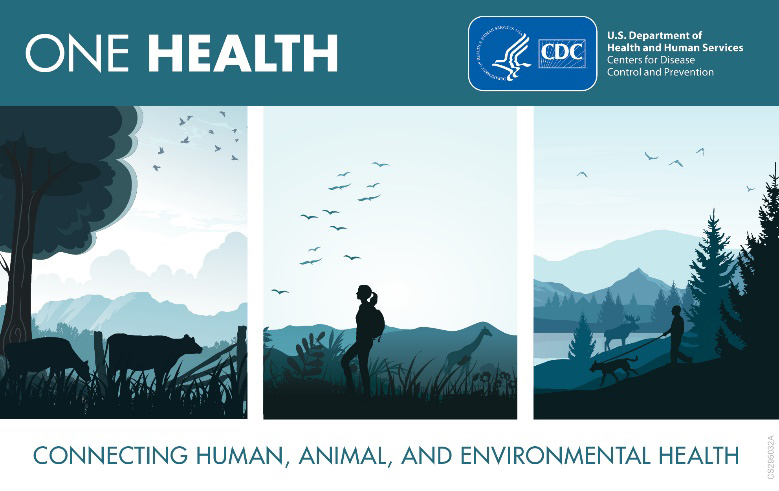 One Health Awareness Month is an initiative that recognizes the connections between the health of humans, animals, and their shared environment. This collaborative, multisectoral, and transdisciplinary approach is a global effort and is intended to help you achieve the best health possible. One Health focuses on building awareness of zoonotic diseases – when animals infect humans – and how they are spread.
Common issues One Health focuses on include:
Antimicrobial resistance
Food safety
Food security
Vector-borne diseases
Environmental contamination
And more
Most people interact with animals in their everyday lives, as they provide us with food, fiber, livelihoods, travel, sport, companionship, and education. Millions of American households have one or more pets, too. It's important to be informed on how to keep yourself safe. To learn more about One Health month, please visit the CDC website by clicking here.
How Diseases Spread from Animals to Humans
It's important to be aware of the harmful germs that can spread from animals to humans – these are called zoonotic diseases. Whether a zoonotic disease is bacterial, fungal, or viral, it spreads through infected animals carrying a disease and makes humans sick. It can happen from handling, petting, or getting injured (bitten or scratched) by an infected animal.
How Can I Get Involved in Building One Health Month Awareness?
Part of One Health Month is highlighting #OneHealth on social media. You can do your part to raise awareness by connecting with media outlets, friends, family, coworkers, and lawmakers. Another way to reach out is by participating in the January 2022 One Health Awareness Social Media Campaign. Use the hashtag #OneHealth and comment and share other's posts. You can even do an educational presentation about One Health issues at your local library, school, park, business, church, or other institution near you.
Contact Florida Health Care Plans with Questions
Here at Florida Health Care Plans, or FHCP, our goal is to help build awareness of local and global health initiatives so you can stay happy and healthy. Contact us here with any questions.