Florida Health Care Plans Honored With Platinum Status for Worksite Wellness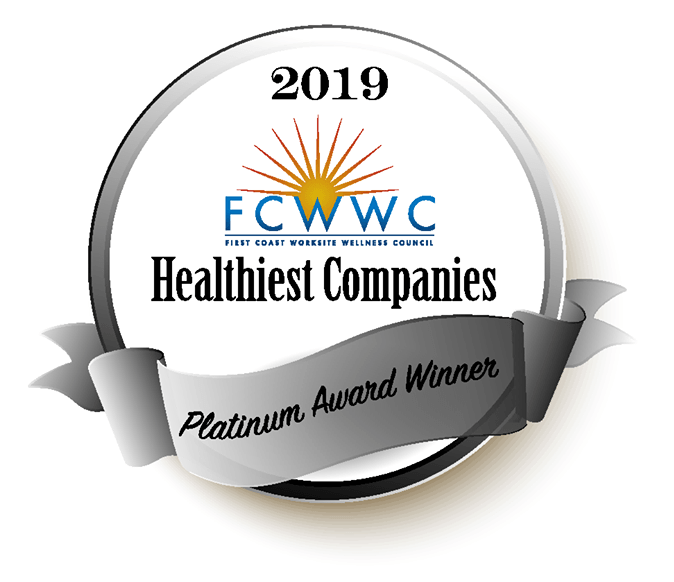 Florida Health Care Plans, a leader among regional health care organizations, has earned the First Coast Healthiest Companies Platinum Award for its commitment to worksite wellness. The honor was formally presented at the 11th Annual First Coast Worksite Wellness Conference on May 8 at the University of North Florida. The award came after exhaustive reviews by the First Coast Worksite Wellness Council. Platinum award winners have best-in-class wellness programs and have truly created a culture of health and well-being throughout their organization.
"Our commitment to wellness is universal," said Dr. Wendy Myers, CEO of Florida Health Care Plans and an innovator in wellness programs and services in her own right. "Our dedicated staff works tirelessly for the good health of our Members. It is gratifying to be recognized for helping people enjoy better health," she said.
Dr. Myers not only works with her medical and management team to provide outstanding health care services to FHCP Members but maintains a commitment to the good health and well-being of more than 1,350 employees on her staff.
The First Coast Worksite Wellness Council provides companies with evidence-based wellness strategies and comprehensive solutions for both start-up and expanding programs.
Florida Health Care Plans (FHCP) was founded in Volusia County in 1974 and today the organization serves almost 93,000 Members in Volusia, Flagler, St. Johns, Brevard, and Seminole counties. FHCP strives to be acknowledged as a health care leader, pioneer, and advocate for members, employees, and service partners. Its goal is to provide the very best health care delivered by professionals who are dedicated to wellness and good health.