Get Outdoors and Get Active This Summer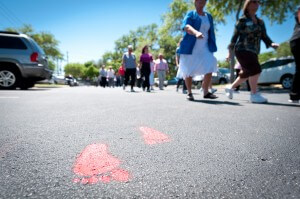 Everyone is encouraged to lace up their sneakers and take at least 30 minutes out of their day to get up, get outdoors and get active. It's a great way to raise your awareness of the importance of physical activity and to get your family, friends, and co-workers noticing a healthier way of life.
Below are a few of the FHCP Staff's top picks for the best walking trails and outdoor activities in Central Florida!
Staff Pick #5 – Seminole Wekiva Trail – Seminole County
With nearly 14 miles of paved recreational trails, the Seminole Wekiva Trail has been designated as one of Seminole County's Showcase Trails because of its length, beauty, and accommodation of many different users. The section of the trail that runs west of the I-4 trail overpass to the County line at the Wekiva River is also a designated part of the Florida National Scenic Trail. Being wheelchair accessible, dog-friendly, and a great place for hiking, biking, running, and horseback riding activities, spending a day outdoors in Seminole County has never been more fun!
Staff Pick #4 – Hontoon Island State Park – West Volusia County
At Hontoon Island State Park, a 3-mile round trip self-guided trail begins at the Ranger Station and follows the Hontoon Dead River to the large Indian mound at the southwest corner of the island; allow yourself 2 ½ hours for a leisurely hike through Florida's natural beauty. In addition to multiple surrounding hiking trails, there is also fishing, kayaking, bike trails, an interactive wildlife museum, playground, general store, and camping on site. Hontoon Island is pet-friendly and the perfect place to spend a day outdoors walking in nature! Park is accessible by boat or park ferry only (ferry is free of charge).
Staff Pick #3 – Princess Place Preserve – Flagler County
With plenty of hiking trails, it's easy to get walking and embrace nature in Flagler County at the Princess Place Preserve. With plenty of options to choose from walking/hiking, horseback riding, kayaking, fishing, planning a relaxing picnic, or enjoying the great outdoors with your four-legged friends, Princess Place Preserve has something for everyone seeking a little fun and exercise in the Florida sun!
Staff Pick #2 – Granada Bridge and Riverside Drive – Ormond Beach
The Granada Bridge in Ormond Beach spans the Halifax River and Intracoastal Waterway linking the mainland and beach peninsula. The Granada Bridge along with City Hall Plaza, Fortunato Park, and Riverbridge Park create the "four corners" of Ormond Beach's Granada Bridge. The Bridge has panoramic views of our waterways and includes marked bicycle lanes along the shoulder and two pedestrian walkways at the far ends. This bridge is part of the Ormond Scenic Loop and Trail and also connects to Riverside Drive where the paved sidewalks running parallel to the Intracoastal give walking and biking enthusiasts of all strides a beautiful view and cool breezes all along the way!
Rounding Out With Our Favorite Outdoors Spot, the Beach!
Smyrna Dunes – Southeast Volusia County
With over two miles of elevated boardwalks to protect the natural habitat, a 1.5-mile dune walkover, and different picnic areas, pavilions, and an observation tower, visitors can enjoy the ocean, river, dunes, scrub zone, and a saltwater marshall in one visit! Smyrna Dunes is pet-friendly and there is an entrance fee of $10 per vehicle, $20 annual inlet parks pass available.
Canaveral National Seashore – Titusville
Hiking the seashore and refuge offers short self-guided trails. Castle Windy and Turtle Mound trails have shell middens left by Timucuan Indians. Turtle Mound Trail boasts a view of the ocean and Mosquito Lagoon. Eldora Hammock, Oak Hammock, and Palm Hammock trail wind through densely vegetated hammocks. Cruickshank Trail has an observation tower and marsh views.
Click Here for a park map
Here are a few more notable spots in Central Florida.
City Center – Port Orange
Waterfront Park – Palm Coast
Blue Spring State Park – Orange City
DeLeon Springs State Park – DeLeon Springs
Lake Woodruff National Wildlife Refuge – DeLeon Springs
Cross Seminole Trail – Winter Springs
Flagler Trail – Sanford
Florida National Scenic Trail – Oviedo
Washing Oaks State Park – Flagler County
Aiguille Rock Climbing Center in Longwood
Lake Beresford Bike Trail to Blue Springs State Park – Deland/Orange City
Lighthouse Point Park- Ponce Inlet
Ziplining at the Central Florida Zoo – Sanford
Ziplining at the Brevard Zoo – Melbourne
Wekiwa Spring State Park – biking, hiking, canoe/kayak – Apopka/Altamonte Springs
Linear Park walking and biking trails – Palm Coast
Visiting Kennedy Space Center – Titusville
Cracker Creek hydro-bike, kayak or, canoe – Port Orange